JOSÉ LUIS ROMANILLOS - SHORT BIO
José Luis Romanillos Vega was born in Madrid in 1932. At the age of thirteen he started working at a carpentry in Madrid, where he acquired professional skills.
In 1956 he moved to England to work. There he meets Marian Harris Winspear. They get married in 1959. They have three children: José Luis, Ignacio and Liam.
In London he builds his first Spanish guitar with the help of the book "Make your own Spanish Guitar" by A.P. Sharpe.
For a few years he combines the construction of guitars with his professional activities. In 1970 he establishes himself professionally as a guitar maker in Semley, a town in the county of Wiltshire, England.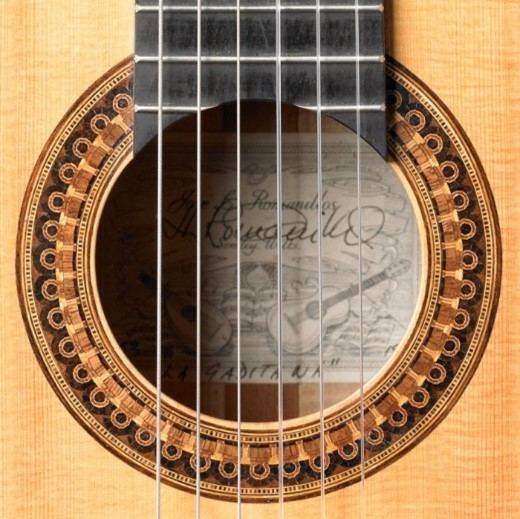 Romanillo's guitars soon draw attention due to the perfection of their manufacture, the quality of their sound and the aesthetic details of their construction.
In 1973, the great guitarist Julian Bream purchased a Romanillos guitar, which he used for several years for his concerts and recordings.
Romanillos receives recognition - and in many cases also requests - from other great guitarists such as Antigoni Goni, Carles Trepat, Miguel Javaloy, etc.
The international prestige of Romanillos guitars has been consolidated over the years. Meanwhile, in 1982, his youngest son, Liam, starts working as an apprentice in his father's workshop.
In 1995 Romanillos returned to Spain with his wife Marian. They established their residence in Guijosa, a district of Sigüenza, in the province of Guadalajara. In his new workshop, Jose Luis Romanillos continues to build guitars, which are registered as those of the "Guijosa period".
In addition to his facet as a builder, we must highlight his ability as a promoter and trainer. Romanillos gave courses on the construction of the Spanish guitar in Spain and in many other countries, as well as conferences and seminars on the organology of the instrument. Many of his students are now prestigious guitar makers.
Equally remarkable is his work as a researcher. He was the first to study in depth the technique and work of Antonio de Torres, exhaustively tracking and cataloging his guitars, a task in which he had the invaluable collaboration of his wife Marian Harris.
José Luis and Marian, together, carried out this and other important research projects. The result has been numerous articles, conferences given all over the world and three books of absolute reference in the world of the guitar:

"Antonio de Torres - Guitar Maker -  His Life & Work" is the book that has helped to understand and recover the figure of this brilliant guitar maker, considered today the father of modern Spanish guitar.

"The Vihuela de Mano and the Spanish Guitar" complete dictionary for violists and guitar makers.

"Making a Spanish guitar" Spanish guitar construction guide where he explains in detail the process of building a concert guitar.

In 2014, the University of Alicante awarded the degree of "Doctor Honoris Causa" to José Luis Romanillos Vega "for his work as a violist and his contribution to research for the knowledge and dissemination of the Spanish guitar."
José Luis Romanillos passed away on February 12, 2022, at the age of 89.
Rest in peace, Maestro.
---
The Badalona Guitar Association organized a concert in honor of José Luis Romanillos in June 2022, coinciding with what would have been his 90th anniversary. This is our posthumous tribute. Here you will find information about this event:
POSTHUMOUS TRIBUTE TO JL ROMANILLOS - 90th ANNIVERSARY